← Return to all Blog Posts
The Best Independent Restaurants in Sheffield
17/01/2020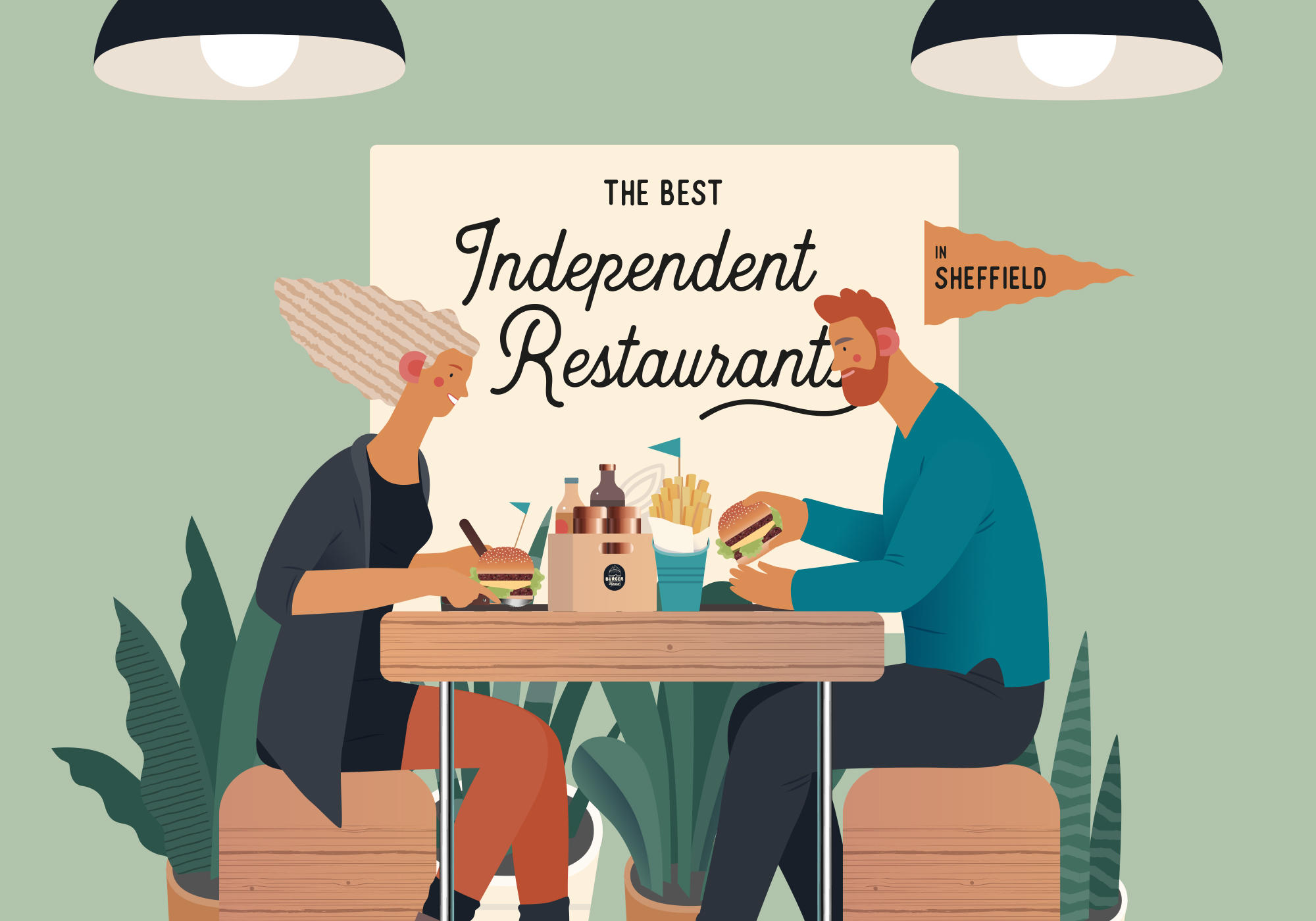 Sheffield folk are very proud of anything made in Sheffield. You'll constantly hear us boast about everything from Henderson's Relish, to Phlegm's awe-inspiring artwork, to The Arctic Monkeys.
This mentality extends to our food, too. There is a thriving community of restaurants all across Sheffield – and it continues to keep growing, throughout the city, with almost every cuisine to be explored.
While you spend your student years in Sheffield, you'll encounter many meals; from the ones with your mates, to first dates, to the one you desperately need to alleviate a hangover.
That's a lot of food in three years, so to help, we're going to recommend the places that you have to visit - to make sure you truly get a taste of independent Sheffield.
Sheffield Treasures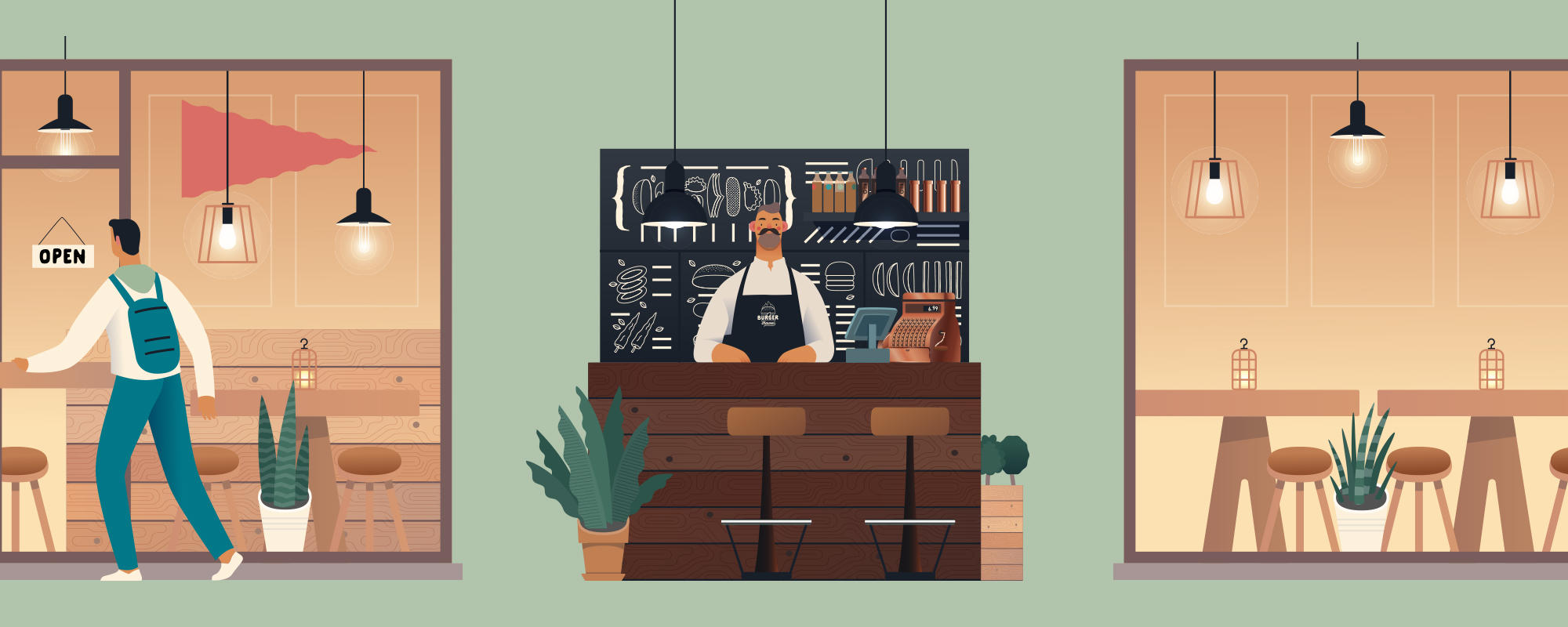 From long-standing restaurants to the ones that have made a lot of noise with Sheffielders, there are some places that are completely and utterly cherished by the city.
Ashoka
The first Indian restaurant in Sheffield, this authentic and cosy spot is small from the outside, it would be a hidden gem if it wasn't recommended so highly by its customers!
Located along Ecclesall Road, the building is narrow and grey from the outside, with a welcoming interior. The menu is authentic, fresh and with dishes such as 'Henderson's House Puri'* - it really is a taste of what Sheffield's all about. Put this family-run eatery at the top of your list.
*Henderson's is a locally-made relish - it's a staple in the cupboards, hearts and minds of Sheffielders.
Address:
307 Ecclesall Road, S11 8NX
Opening Times:
Sunday - Thursday: 6-11pm
Friday - Saturday: 6pm-12am
Menu: Here
Greedy Greek
In 2003, just off Hunters Bar Roundabout, the Mouzakis family opened the doors to their authentic Greek Restaurant, 'The Greedy Greek'.
Ever since then, they have been serving the people of Sheffield from their Mediterranean-style deli restaurant, and more recently with their food truck - which you're bound to catch at a number of events throughout the year.
The Greedy Greek serves a delicious range of food from gyros to mezze and it's all available to eat-in or take home. Another factor that makes The Greedy Greek so popular is the fantastic value for money delivered through the food.
Address:
418-420 Sharrow Vale Road, S11 8ZP
Opening Times:
Monday - Sunday: 10am-10pm
Menu: Here
Twisted Burger Company
Focusing their efforts on great burgers, local heroes Twisted Burger Company produce gut-busting burgers, including vegan and vegetarian options. They work alongside local musicians too, having collaborated with Sheffield based Toddla T, Bring Me The Horizon and While She Sleeps.
Currently, they are based out of father-son brewery 'Triple Point Brewery', so you can grab a great (locally-brewed) beer with your burger – name a better duo, we'll wait!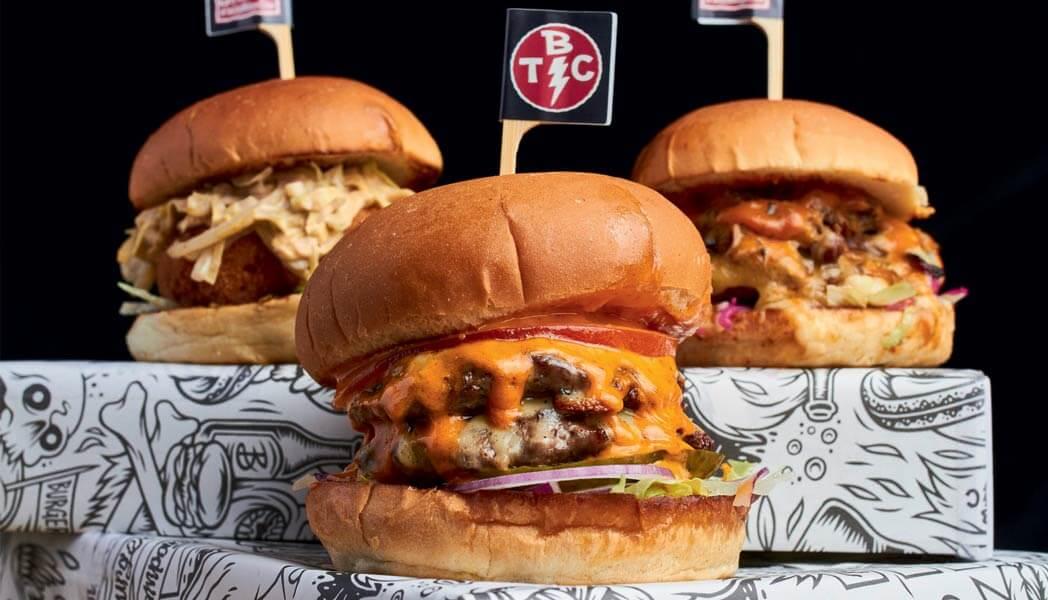 Address:
178 Shoreham Street, S1 4SQ
Opening Times:
Monday - Tuesday: 4-9pm
Wednesday - Saturday: 12-9pm
Sunday: 12-8pm
Menu: Here
Casual Dining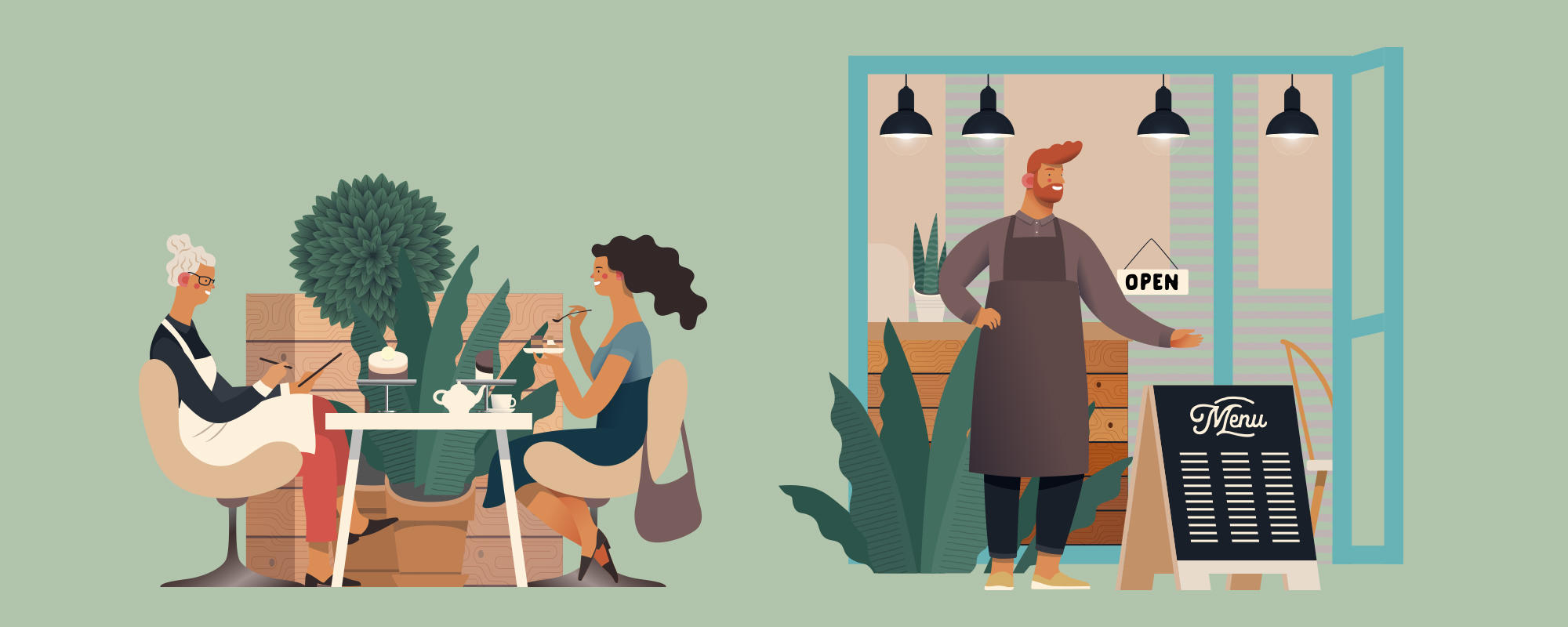 For the spontaneous decision to eat out or a midweek flat meal, there are plenty of informal and cosy options dotted across Sheffield.
Forge Bakehouse
Founded in 2012, Forge Bakehouse opened its doors as a micro-bakery. You might think, why is a bakery featured in a list of restaurants? Well, the incredible flavours of the bread won the hearts and minds of Sheffield, and the bakehouse has expanded to offer breakfast, brunch and on occasion, late night suppers.
The space is fully licensed, selling wine, beer and cocktails off their own menu. It's a beautiful, airy space spread across multiple floors with a delicious menu to match. Food is seasonal with plenty of vegan options to cater to everyone.
Address:
300A Abbeydale Road, S7 1FL
Opening Times:
Monday - Saturday: 9am-4:30pm
Sunday: 9am-3pm
Menu: Here
Broadfield Pub
Award winning and approachable, the Broadfield House is a lovely gastropub belonging to the Sheffield brewery True North and is a favourite among the locals. Originally built in 1890, the pub was refurbished in 2012 to restore it to its former glory.
The Broadfield's food offering is certainly a standout, with a special Sunday menu available. The daily menu is packed with pub classics often with a tasty twist, from harissa spiced cottage pie to BBQ cola pulled beef shin sandwich.
Address:
452 Abbeydale Road, S7 1FR
Opening Times:
Monday - Thursday: 11:30am-12am
Friday - Saturday: 11:30am-1am
Sunday: 11:30am-11pm
Menu: Here
Ambulo
Ambulo is the work of James O'Hara and Matt Helders; both collaborators are treasured by Sheffield. O'Hara is the man behind many of the city's most exciting haunts (Public, Picture House Social and Gatsby), while Helders is the city's most famous drummer.
Unique as the café is, there are two - one in the Millennium Gallery and the other at Weston Park Museum. The all-day cafes are carefully curated in muted pastel colours, which makes them feel up-market, but actually, they're great casual dining spots. The menu is comprised of seasonal food and plenty of drinks on tap.
Peruse some of Sheffield's finest exhibitions and then refuel in style!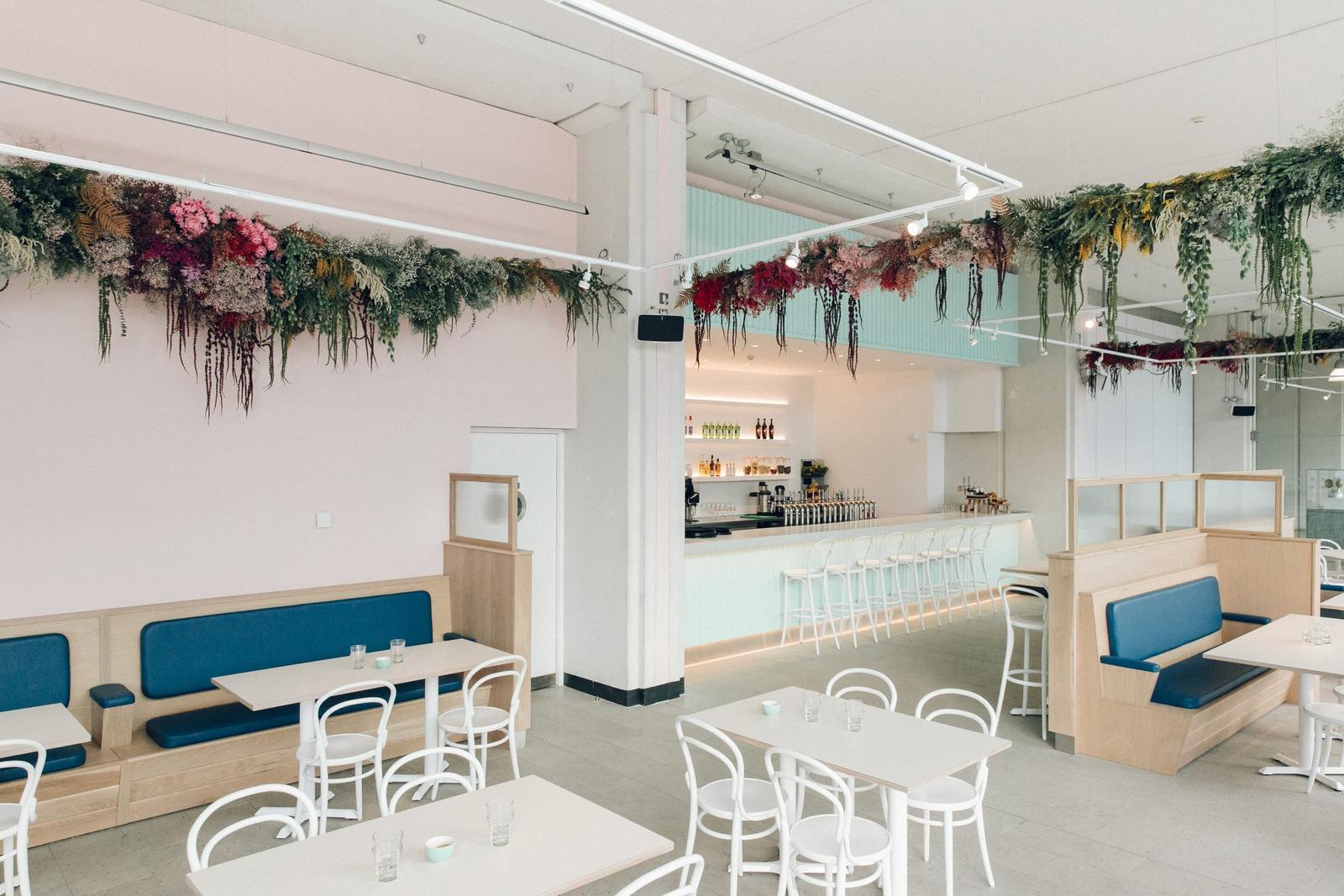 Address:
1: Weston Park Museum: Western Bank, S10 2TP
2: Millenium Gallery: 48 Arundel Gate, S1 2PP
Opening Times:
Monday - Saturday: 9am-5pm
Sunday: 11am-4pm
Menu: Here
Turnip & Thyme
Perfect for enjoying good food with friends and family, Turnip and Thyme is a fairly new bistro located on Ecclesall Road. It is the creation of brother and sister duo Robert and Louise, who have fused their years of hospitality experience to bring Sheffield a quaint and locally-sourced dining option.
This family-run bistro is all about comfort, with a menu filled with British classics and a relaxed atmosphere – if your parents come to visit you at University, this is a great place to take them for a taste of Sheffield.
Address:
740 Ecclesall Road, S11 8TB
Opening Times:
Sunday - Monday: Closed
Tuesday - Friday: 5-10pm
Saturday: 12-11pm
Menu: Here
La Mama
Serving up delicious Latin tapas, La Mama have established themselves a firm family favourite thanks to their authentic menu, which just about includes every South American treat you could hope for, and a friendly atmosphere often encouraged by live Latin Jazz.
Beers and wines are typically South American to match the food. The cosy restaurant is a standout on Abbeydale Road, which says something as this part of Sheffield is one of the best areas for foodies.
Address:
238 Abbeydale Road, S7 1FL
Opening Times:
Sunday - Monday: Closed
Tuesday - Friday: 6-10pm
Saturday: 3-11pm
Menu: Here
The Tramshed
On Chesterfield Road, The Tramshed rescued the derelict site of a fire accident and have given a renewed sense of culture to the place – with unusual beers, fresh food and rotating artwork upon the walls.
After refurbishing the place and giving it a new lease of life, they serve a range of fantastic craft beers to be paired with exciting and experimental dishes, which regularly change. If you're looking for something a little different, this is the place to go.
Address:
51 Chesterfield Road, S8 0RL
Opening Times:
Monday - Thursday: 4-11pm
Friday: 3pm-12am
Saturday: 12pm-12am
Sunday: 3-11pm
Menu: Changing, Facebook page here
Vegan and Vegetarian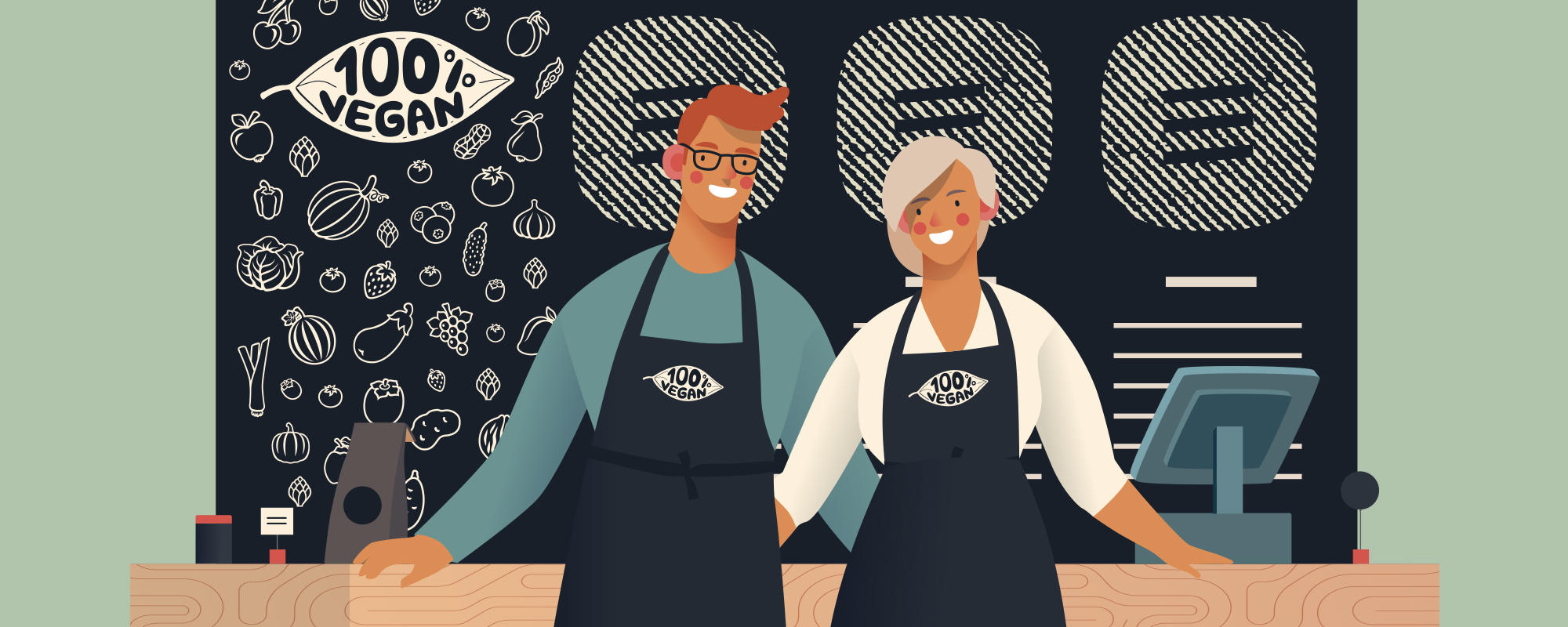 With more people turning to veganism, particularly students, there are more vegan and vegetarian options and restaurants than ever. Luckily, there is a thriving scene of independent vegan and veggie restaurants in Sheffield.
Pour (100% vegan)
Pour is a relatively new addition to Sheffield, as the unique bar came to life in 2018, filling a gap in the market. Their staple is pizza that can be purchased by the slice or up to 16", with exciting specials each month. Although pizza is the main offering, there are small plates such as 'Kelli's Fake Chicken', seitan 'ribs', and mac & cheese balls.
It's a cosy space inside the bar, with a range of large sofas dotted across the room, alongside a range of board games to settle into.
Address:
617 London Road, S2 4HT
Opening Times:
Monday - Tuesday: Closed
Wednesday - Thursday: 4-11:30pm
Friday: 4pm-12:30am
Saturday: 12pm-12:30am
Sunday: 12-11:30pm
Menu: Here
Church – Temple of Fun (100% vegan)
Imagine video games, cocktails, drinks, a tattoo shop and delicious food under one roof? It's not a fantasy, it exists in Kelham Island, in a refurbished warehouse suitably named Church – Temple of Fun.
It's the perfect atmosphere to dine in a relaxed setting, with plenty to do. It's spacious with a lot of seating which enables larger groups to be catered to easily. The food is catered by the incredible Make No Bones. Their signature dish is deep fried avocado wings, which is just one of the dangerously tempting and tasty offerings on the menu.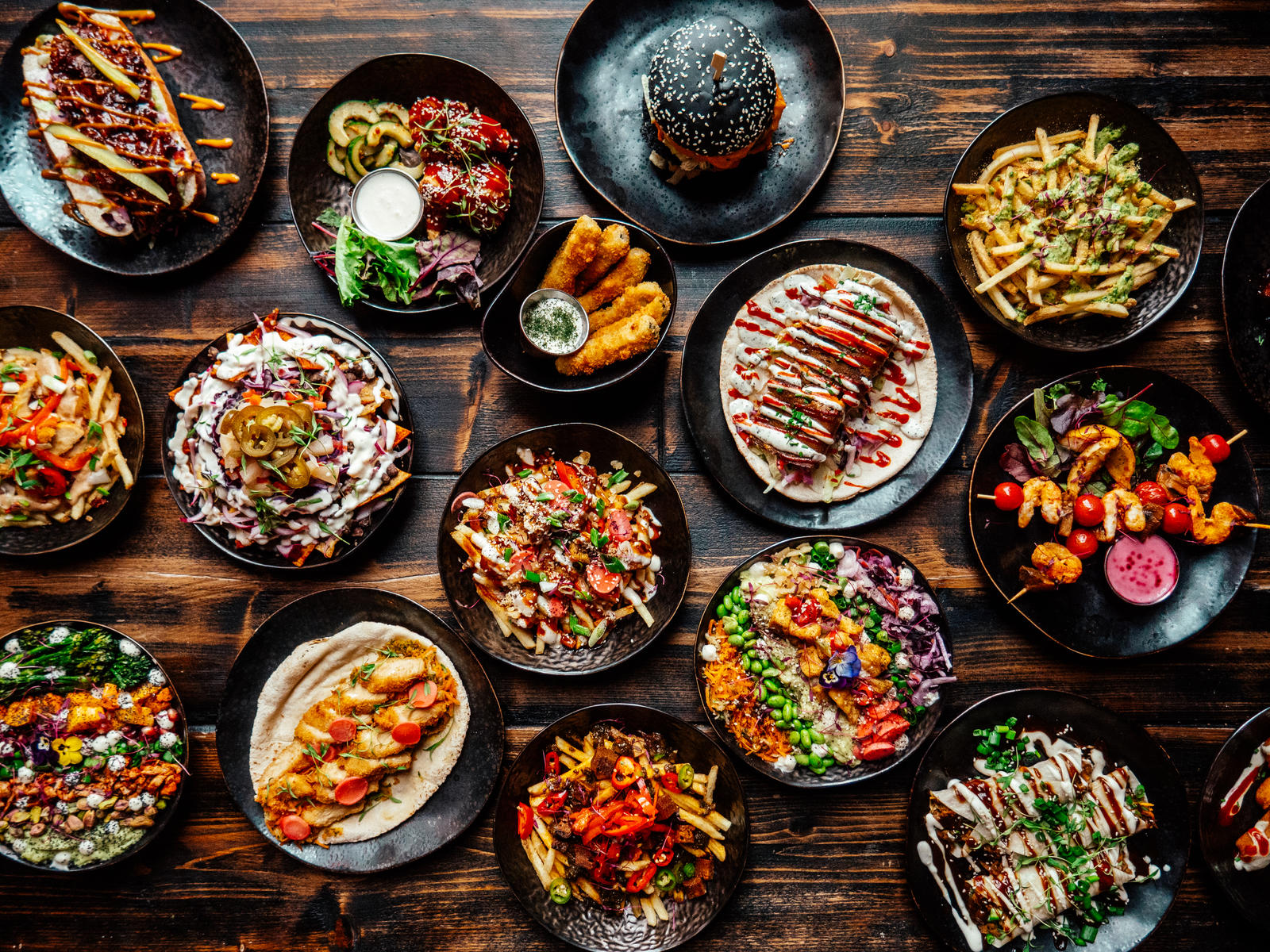 Address:
4a Rutland Way, S3 8DG
Opening Times:
Monday: 10am-4:30pm
Tuesday - Thursday: 10am-11pm
Friday-Saturday: 10am-1am
Sunday: 10am-11pm
Menu: Here
Just Falafs (100% vegan)
On Chesterfield Road, Just Falafs does not only provide excellent puns, but delicious middle eastern food within a small and familiar space. You can order food to take out, but we would recommend dining in the cosy restaurant.
The menu at Just Falafs is 100% plant-based and varies greatly from the staple falafel to a soy chicken schnitzel. Main plates can be enjoyed in three ways, in a pita, plate or in a hummus bowl (which includes all the trimmings.) This place is great value for money - with mains starting at just £3.50 and the most expensive dish costing £6.50.
Address:
87 Chesterfield Road, S8 0RN
Opening Times:
Monday: Closed
Tuesday - Thursday: 6-9pm
Friday - Saturday: 12-9:30pm
Sunday: 12-9pm
Menu: Here
Blue Moon Café
The stalwarts of the vegan and vegetarian scene in Sheffield, Blue Moon Café have been in operation since 1995. Just on the edge of the Cathedral Square, Blue Moon is located in a bright and iconic building, with a beautiful lantern roof.
There is no fixed menu, as the food is dictated by a daily chalkboard which displays – two vegan dishes and one vegetarian prepared freshly each day. One of Sheffield's original independent eateries, Blue Moon is a must.
Address:
2 St James' Street, S1 2EW
Opening Times:
Monday - Friday: 8am-8pm
Saturday: 8:30am-8pm
Sunday: Closed
Menu: Changing chalkboard, visit the restaurant to find out!
Fast Food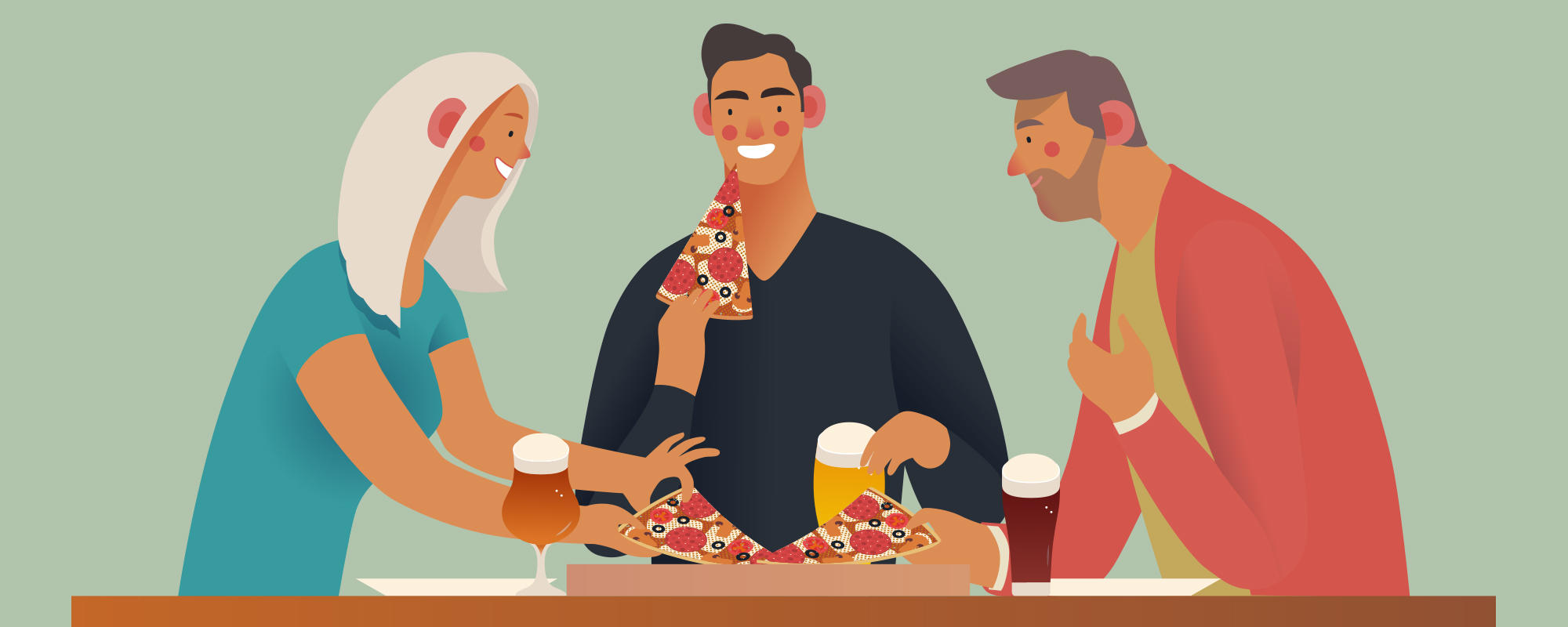 Sometimes you need an option to go, something easy and delicious. Here are a couple of places where you can grab food on the go, or sit down in their comfortable shop for a quick bite.
The Porter Pizza Company
On a small stretch of foodie delights on Sharrow Vale Road, you cannot escape the smell of The Porter Pizza Company's wood-fired oven. The small shop was set up by a bunch of friends who sought after flavour and inspiration, rather than greasy and stodgy pizza.
They have more than achieved that with their Neapolitan-style pizza, which is handmade in front of your eyes. Choose your topping combos or pick one of the finely curated options on the chalkboard – plus, you can dine by the slice, or as we recommend, the whole thing.
Address:
410 Sharrow Vale Road, S11 8ZP
Opening Times:
Sunday - Thursday: 12-9pm
Friday-Saturday: 12-9:30pm
Menu: Here
Street Food Chef
Starting out by selling Mexican food on the streets of Sheffield, the Street Food Chef has been widely adored by the local community for some time. Now, you can enjoy their award-winning and Gnome recommended burritos within their own premises on Arundel Street and Sharrow Vale Road.
While their burritos are incredibly well regarded, their healthy take on Mexican classics such as quesadillas, nachos and fajitas make for great dining on the go and in their shop – all at a reasonable price, too.
Address:
1: 376 Sharrow Vale Road, S11 8ZP
2: 90 Arundel Street, S1 4RE
Opening Times:
1 - Sharrow Vale Hours:
Monday - Thursday: 10am-9pm
Friday: 10am-10pm
Saturday: 9am-10pm
Sunday: 9am-9am
2 - Arundel Street Hours:
Monday - Saturday: 10am-10pm
Sunday: 10am-9pm
Menu: Here
Lucky Fox
Combining delicious fried chicken, waffles and beer "as cold as your ex's heart", Lucky Fox has been a winner in Sheffield since day one. Situated within a shop on the busy Division Street, it's a great place to stop by after a lecture or if you're in need of a hangover cure.
The menu runs from lunch until late, although it does get busy, so reservations are taken after 5pm. Their mouth watering chicken comes in various forms; with waffles, in a sandwich, with 'mac n cheese' or as the fries themselves!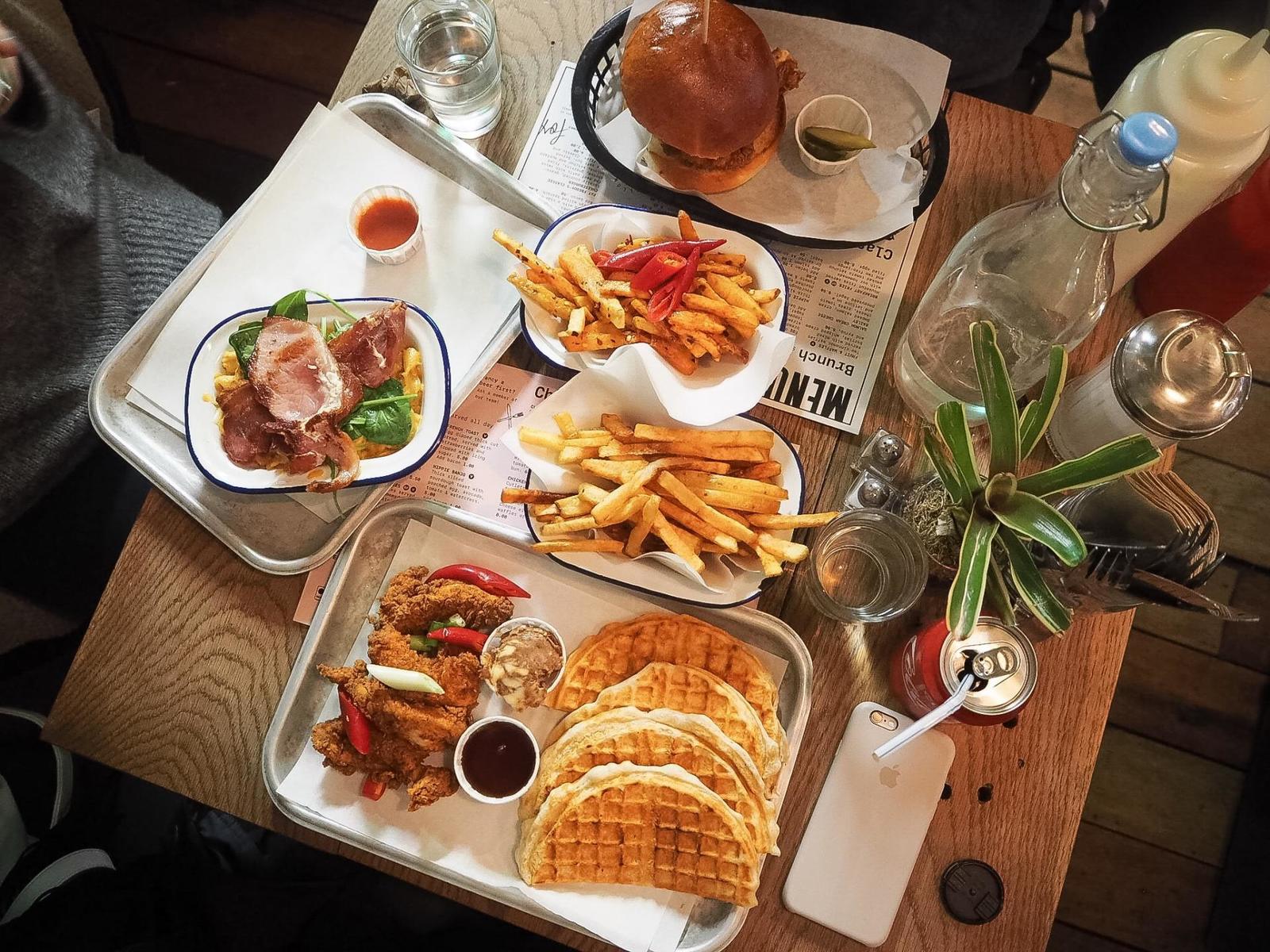 Address:
72 Division Street, S1 4GF
Opening Times:
Monday - Friday: 11am-9pm
Saturday: 10am-9pm
Sunday: 11am-4pm
Menu: Here
Finer Dining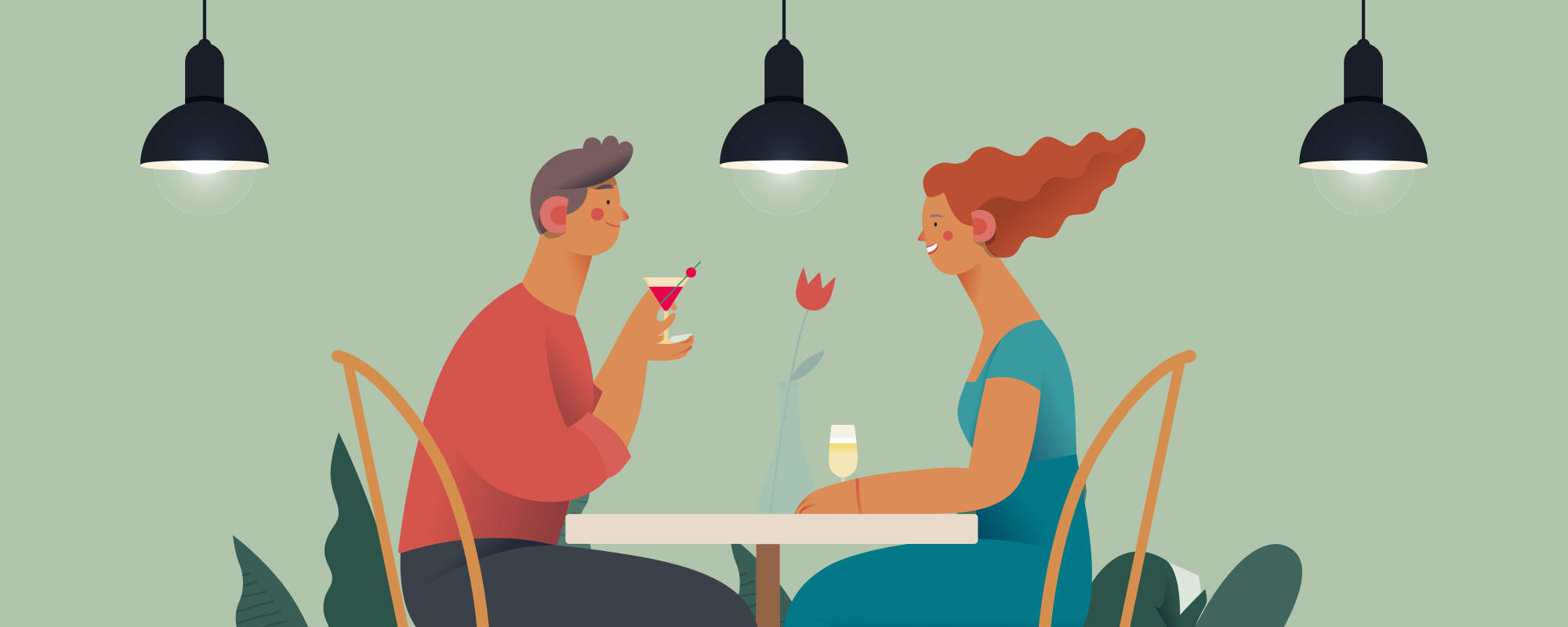 For the special occasions, the times your parents come to visit (and are paying), or fancy date nights, there are some unique and luxury options to explore in Sheffield.
Joro
Modern fine dining at its best, Joro (pronounced Yoro) has been showered in accolades for its innovative British menu. Holding a Bib Gourmand in the 2019 Michelin Guide, 3 AA Rosettes and a score of 5 in the Good Food Guide, you know you're guaranteed to have an exhilarating culinary experience here.
Based inside a shipping container on the edge of Kelham Island, Joro offers a relaxed and fresh take on small plate tasting menus. With the 5 course lunch menu costing £5 and small plates ranging from £6.50 to £21, this is an affordable yet up-market fine dining option.
Address:
0.2-0.5 Krynkl, 294, Shalesmoor, S3 8US
Opening Hours:
Sunday - Tuesday: Closed
Wednesday - Saturday: 12-3pm, 5:30-10pm
Menu: Lunch menu, Small plates menu
Domo
Tucked away in 'Little Kelham', Domo is somewhat of a hidden gem. Offering one of the most exciting and unique menus in the city, the restaurant serves a selection of Sardinian Soul Food - which a bit different to your typical Italian restaurant.
Their separate pizza menu catches the eye, with authentic Sardinian treats such as 'Sarda' which is comprised of Sardinian dried sausage, onions and olives. This menu accompanies an extensive list of mains and a sweet & savoury breakfast (or colazione, if you speak the lingo.)
It's a little more expensive but is worth every penny for this exclusive taste of Sardinia, in a beautiful little restaurant.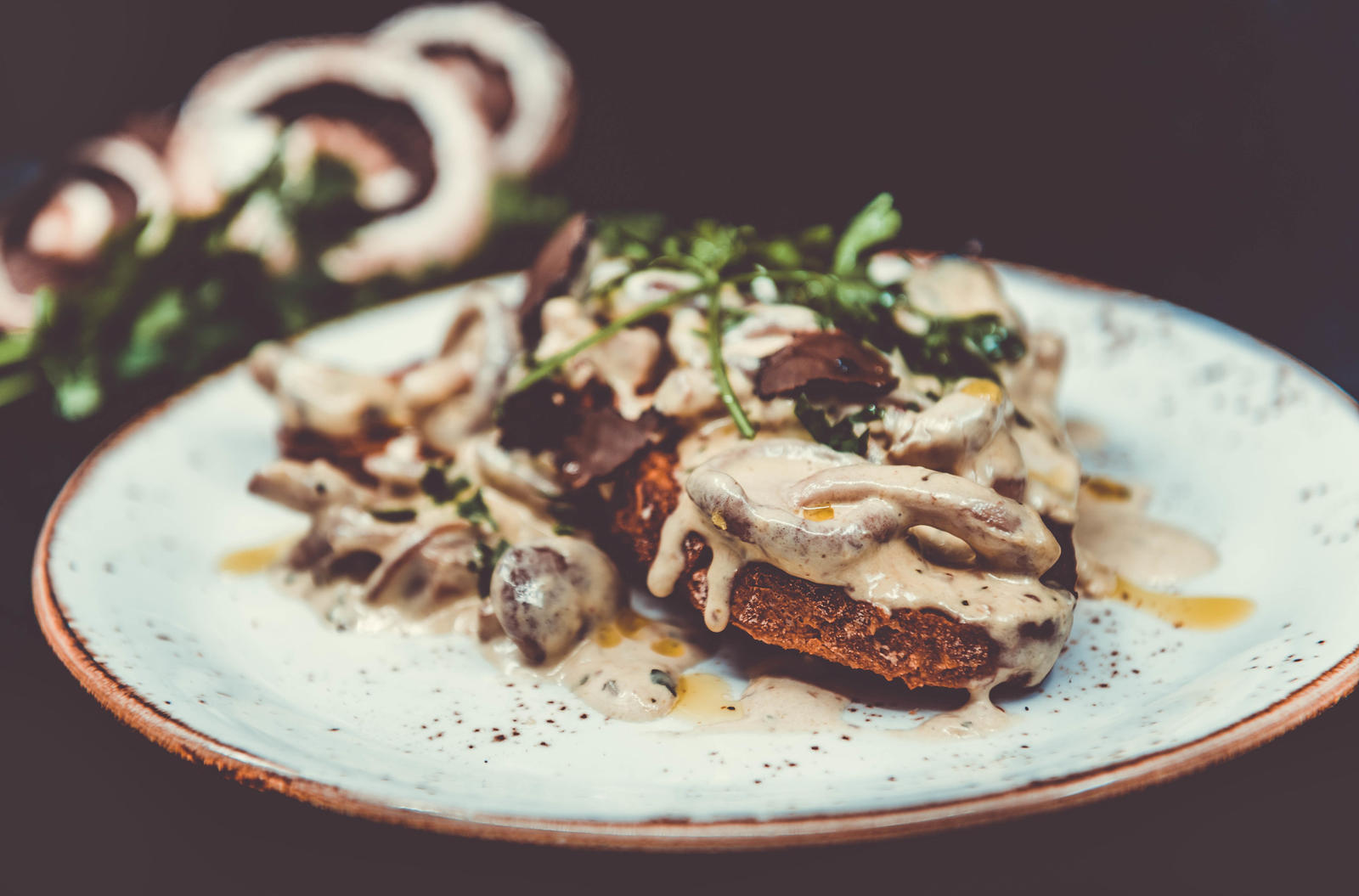 Address:
Eagle Works, 34-36 Cotton Mill Walk, S3 8DH
Opening Times:
Monday - Friday: 9am-10pm
Saturday: 9am-10:30pm
Sunday: 9:30am-8pm
Menu: Here
Oisoi
Contemporary in every sense of the word, Oisoi is the unrivalled artisnal oriental restaurant - which also doubles up as a cocktail bar, cafe and patisserie. The name is actually a made up word; a shortened version of 'oriental soy sauce.'
Everything from the menu to the dining area to the cocktails are perfectly designed and beautifully vibrant. The seating is a perfect pastel twist on traditional oriental design, and the food reflects this too.
Whether you enjoy their Dim Sum afternoon tea or opt for the chef's signature candian lobster noodle, you are bound to have a gastronomical experience like no other, certainly not in Sheffield.
Address:
121 Norfolk Street, S1 2FJ
Opening Times:
Monday - Thursday: 11:30am - 4pm / 5-9:30pm
Friday - Saturday: 11:30am-10:30pm
Sunday: 12-9pm
Menu: Drinks, A La Carte Menu
Cantines and Events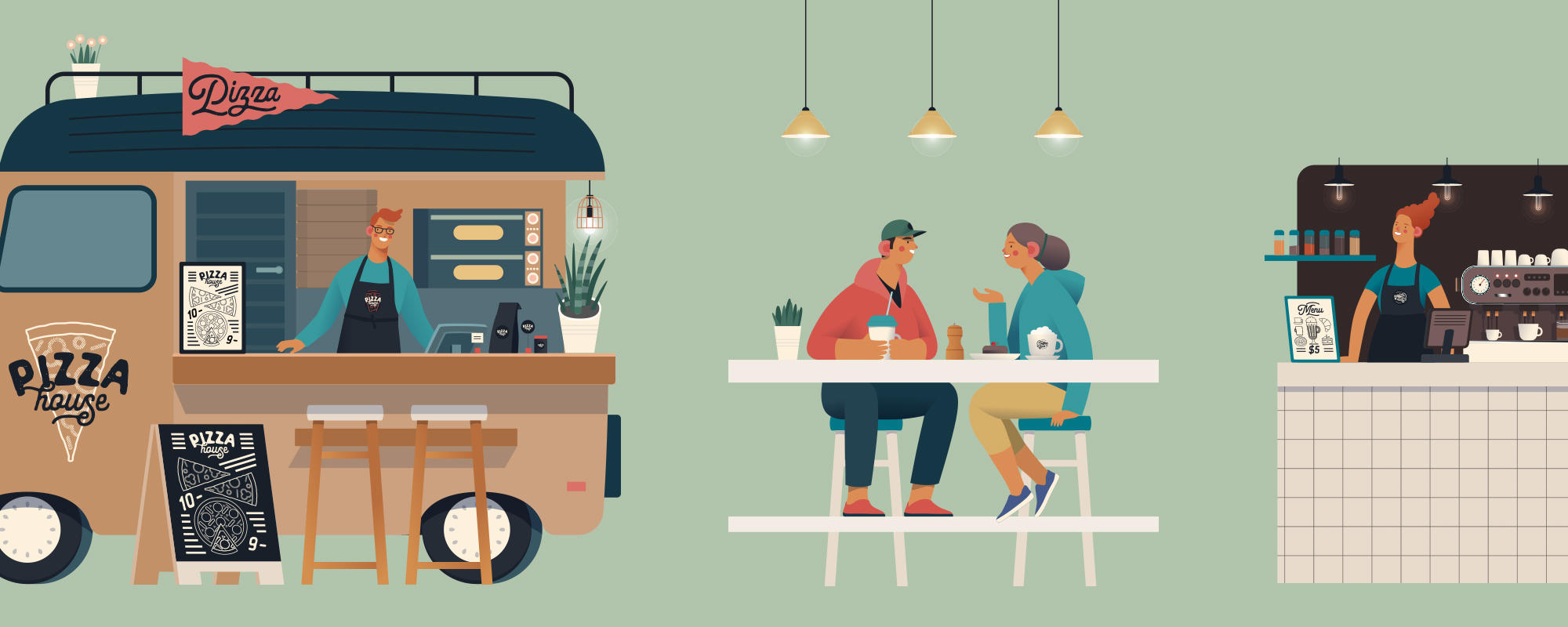 Food courts, markets and events means that there are multiple stalls and vendors, catering for everyone and letting you try multiple dishes. Sheffield has a few great places that you will want to keep going back to!
The Cutlery Works
The former cutlery works (hence the name) is a recent addition to Sheffield's expansive collection of independent eateries across the city, but it is certainly an impressive one.
The industrial building has been gutted and finished with a sleek look and thanks to the refurb, boasts 14 different restaurants and stalls. This includes anything from pies to craft chocolate to sushi to Vietnamese food.
It's a beautiful building with a relaxed and cool atmosphere – the perfect place to visit if you're in a group with different tastes. Simply choose the restaurant you want to buy food from, order and head over to your table. Something to please everyone!
As well as food, you'll find a great selection of beer, wine and spirits. Located in the trendy Kelham Island, why not make a night of it?
Address:
73-101 Neepsend Lane, S3 8AT
Opening Times:
Monday - Tuesday: Closed
Wednesday - Thursday: 9am-11pm
Friday - Saturday: 9am-12pm
Sunday: 9am-10pm
Menu: Sample menu, Sample vegan menu
Kommune
A similar concept to 'The Cutlery Works', Kommune is a centrally located canteen hall which is also relatively new to Sheffield. Opening its doors early 2019, the open-plan food hall has gained a lot of traction for the quality and variety.
Grab a bite of tasty Korean food, a burger, curry, fresh fish or a sweet treat. Wash it down with a drink from the main bar, or if you're of the craft persuasion, Hope House sell cans, bottles and a rotating line of tasty beers too.
All set within a brutalist (concrete walls, floor and industrial furniture) which fits right in with Sheffield, this is a place to grab lunch, tea or a snack – again, especially if your group has multiple tastes.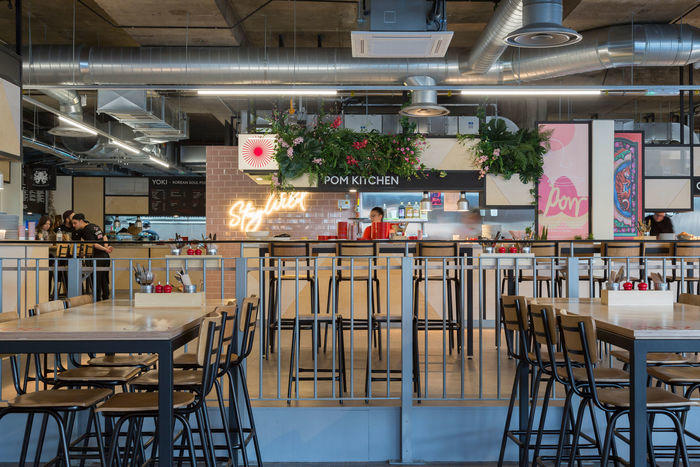 Address:
Castle House, Angel Street, S3 8LS
Opening Times:
Monday: Closed
Tuesday - Saturday: 9am-11pm
Sunday: 9am-9pm
Menu: List of restaurants here
Peddler Market
If you ask any Sheffield foodie what their favourite time of the month is, there's no doubt they'll tell you Peddler Food Market. The first weekend of the month, Peddlers opens its doors to Sheffield folk, allowing them to feast on a tasty mix of award-winning street food, craft beer, cocktails, live music and art.
Founded in 2014, the monthly street food event has gone from strength to strength, now notorious among the Sheffield locals and those further afield who travel to the Steel City for a slice of the market.
There's something for everyone with a mix of cuisine and styles available, plus it's just a great place to start your night out, conveniently located in the trendy Kelham Island where there are plenty of great pubs and bars.
Address:
92 Burton Road, S3 8BX
Opening Times:
Friday: 5-11pm
Saturday: 2-11pm
Menu: Check out the website here
There you have it - Sheffield's finest independent restaurants, what a jam-packed list to see you through your time as a student in the city. The scary thing is, we're only scratching the surface, there is so much to explore!