← Return to all Blog Posts
7 Top Tips for Moving Out Of Your Student Accommodation
07/07/2019
This is the time of year when student tenancies to come to an end. The stressful task of packing up and moving home - or onto your next student property - can be stressful. To help, here is a list of recommendations to make this daunting task as easy as possible.
List your Essentials
Moving in general is always a perfect opportunity for you to filter through all your possessions and decide if you really need to hang onto something you only ever used once.
Start off by taking an inventory of everything you own as:
This is going to prevent you from misplacing something, as you will have taken stock of everything you own.
You should be able to divide your possessions into things that truly are essentials and things that are needlessly hanging around just because you might need them.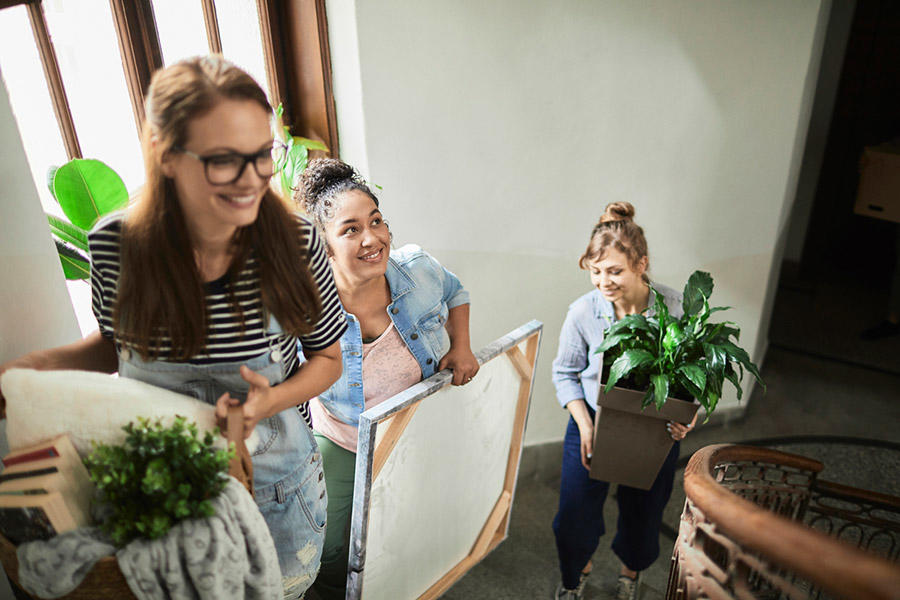 De-Clutter
De-cluttering is not only going to lighten the load when it does come to moving out of your accommodation, but it also presents the opportunity to pass on your unwanted items to people less fortunate.
To find your nearest charity shop to pass on your unwanted things for a good cause, check out our guide. Or, make use of the Sheffield City Council's clear sack scheme; running from 17/06 to 05/07 2019, to dispose of waste that can't be re-used or recycled.
Clean
Clean your old flat and room to avoid any cleaning fees being taken out of your deposit. Also, check your contract or contact your landlord about the state you should leave the property in, to avoid further charges.
If you're lucky and have a cross-over period between a new and old property, take the opportunity to deep clean your new room before moving boxes into it. Prepare a cleaning kit for moving day to keep things easy.
Ask for Help
Carrying heavy boxes and bags of all the clothes and items your student loan has funded can be exhausting. If you can, try and get a group of your friends to help you move.
With everyone moving at this time of year, helping someone else so they can return the favour is your best bet. It's especially helpful if you have any friends with cars to give you a helping hand, as this is much cheaper than paying for a few Uber trips.
Be Organised
Get boxes from local shops, pack early and plan in advance what day will be your moving day. You should also consider who will help you and how you will get from A to B.
Never leave the move until the midnight hour. Instead, always try moving out in stages if you have a plan of where you'll be staying when your contract ends. So, for instance, if you're moving back home to family, try gradually bringing small things with you that aren't essentials. This will lighten the load for when the final move-out day does come. Additionally, pre-plan your meals so you don't overspend on food which could end up being wasted.
Packing Tips
Some of the things you can do to ease packing include:
Using packing tape
Sorting things by category
Labelling your boxes
Using small boxes for heavy items
Using bubble wrap or blankets to protect fragile items
When packing dishes inside a box, pack them vertically.
Use plastic bags when packing toiletries which may leak or spill
Use suitcases and bags for extra storage containers.
Put heavy boxes or bags into vehicle first.
Inspections
When all your boxes and bags are moved out, that is your chance to do your last checks of the property. Not only to cover your own back, but to make sure you get your deposit back at the end of the contract.
Always take photos of how you left the property so that if damage to the property does occur, , you'll at least have proof that it the damage wasn't caused while you were renting. This is also relevant for your new property, so take pictures of any visible damage before you move in and promptly alert the landlord if necessary.