← Return to all Blog Posts
7 Charity Shops on Ecclesall Road 
27/03/2019
With the end of term nearing, money may be getting tight - and you might be finding yourself prepping your summer wardrobe this year on a major budget.
So, why not update your wardrobe and support your local charities all at the same time? Not only is this the perfect way to find a cheap deal, but you might also source a few hidden, vintage gems in the process.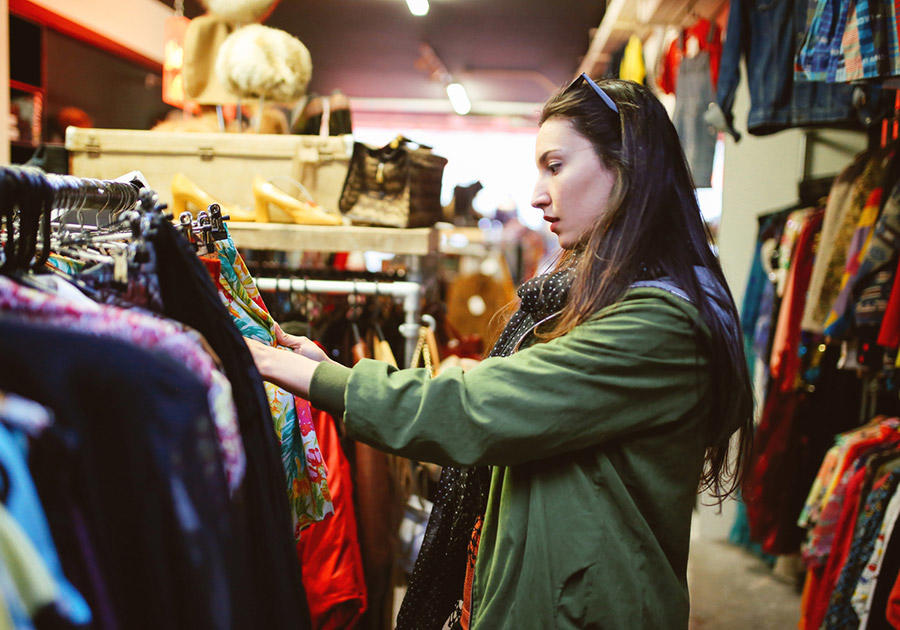 In addition, charity shops are also a great option for recycling the old clothes you find whilst spring cleaning, which, lets face it, is the perfect way to procrastinate during your next essay.
Like many students in Sheffield, you might be living on Ecclesall Road - and dragging bags of clothes back and forth across town might be of inconvenience. So, in this guide are a few charity shops that would be grateful for your donations along Ecclesall Road.
if you're looking to buy but don't want to leave your bed, then many of these charities have online stores. Take the opportunity to support a good cause or donate you time and volunteer for retail experience:
Marie Curie Charity Shop
Marie Curie raises funds to help people living with a terminal illness and provide support to their families. Their shop – which includes an assortment of clothes, accessories, old glasses and more - can be found next to Tesco Metro.
Monday – Wednesday: 9am to 5pm
Thursday – Saturday: 9am to 7pm
Sunday: 11am to 5pm
Cancer Research UK Charity Shop
Cancer Research raise funds in part via their network of charity shops, including the one located on Ecclesall Road. The value of their work is huge; since one in two people are likely to get cancer in their lifetime. You can find this shop a short walk from Collegiate campus. They sell books, homeware, clothing and an array of accessories.
Monday – Saturday: 9am to 5:30pm
Sunday: 11am to 4pm
The Sheffield Cats Shelter Charity Shop
If you're a cat lover, then this is a perfect cause; as funding helps Sheffield's cat shelter who work to re-home about 400 cats a year (but unfortunately you won't find any cats in the shop!) The shop is located opposite Marks and Spencer's Simply Food, offering clothes, cat accessories and branded items.
Monday – Saturday: 9:30am to 5pm
Sunday: 10am to 4pm
St Luke's Charity Shop
St Luke's Hospice cares for adults with terminal illnesses across the region of Sheffield and the charity relies on donations for 77% of their funding. The shop sells clothing, accessories, kitchenware, decorative items, books, toys, DVD's and more. It's located at 429 Ecclesall road, opposite Mud Crab Diner.
Monday - Saturday: 9am until 5:30pm
Sunday: Closed
Age UK Charity Shop
Age UK is the largest charity working with older people. They work to provide information, well-being advice, research, health care, local services and international value. At their shop, they sell clothing, accessories, books, homeware and new goods for a bargain. You can find them shop near the Tesco Metro.
Monday – Saturday: 9am to 5pm
Sunday: Closed
British Heart Foundation Charity Shop
The British Heart Foundation raises money to research cures and treatment for heart and circulatory disease. Their shop on Ecclesall Road is also located near Tesco Metro. There you can buy greeting cards, small gifts, clothes, shoes, toys, music and more as second hand and new goods.
Monday – Saturday: 9:30am to 5pm
Sunday: 10:30am to 4pm
Oxfam Charity Shop
Oxfam provides the most vulnerable with food, water, sanitation and essentials for survival to help rebuild communities in crisis and battle poverty all around the world. You can find their shop at 531 Ecclesall road next to Nonna's restaurant. There they sell new and quality donated goods including Fair Trade foods, green household and body products, gifts, greeting cards, stationery and much more. Any donated items not sold in store are then recycled.
Monday – Saturday: 9:30am to 5:30pm
Sunday: Closed