← Return to all Blog Posts
Student Guide: Where to Do Your Weekly Shop on Ecclesall Road
21/11/2018
A simple task for students that can become daunting very quickly is the weekly shop. For a lot of new students at University, moving into an area they're not particularly familiar with is a big adjustment. An empty fridge sums up the less than glamourous reality of independence when it comes to that time of the week.
For some, this is the ultimate chore. Knowing how much to budget for a weeks' worth of food and knowing how much food will feed you for a whole week can be tricky; not to mention the ultimate pain of carrying ripped shopping bags across town. Luckily, here is a guide to the best local supermarkets, accessible to those living on Ecclesall Road, with great deals to give your budget a little breathing room.
1. Aldi, St. Mary's Gate
The perfect shop for grocery shopping on a budget in this area must be Aldi. With loaves of bread from 35p to pasta at 40p you can stock up your shelves for about £20. With great deals on food, alcohol and toiletries, all of what you need for a weekly shop is available here for a great price.
The shop is located at the bottom of London Road, off the roundabout at St. Mary's Gate. From Gnome Student Home's office on Ecclesall Road, the trip is only a 13-minute walk, whilst the supermarket also has a carpark for those of you able to drive.
They also have a selection of Halloween and Christmas products perfect if you're celebrating on a budget. Monday to Saturday, the store is open 8am-10pm, however on Sundays it's only open 10am-4pm. So, for any late-night trips to the shop, make sure it's not on a Sunday!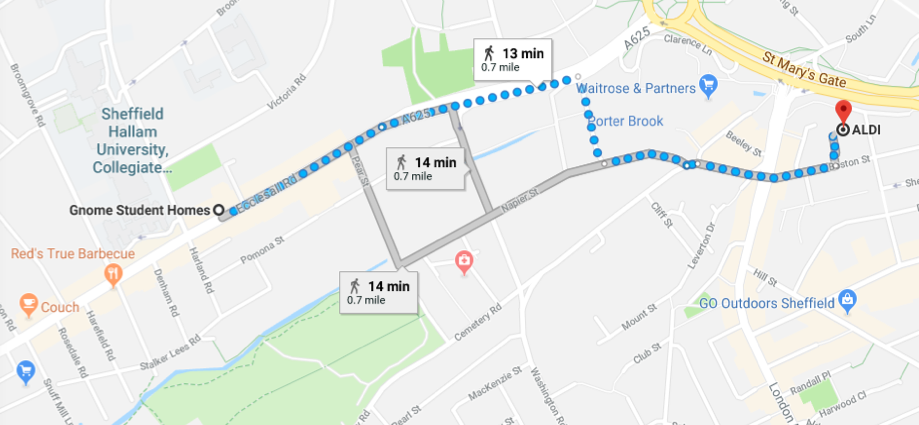 2. Tesco Metro, Ecclesall Road
A reported £1 in every £5 spent in the U.K. goes to Tesco – so there's a good chance you'll have been there. The store is full of reduced products so if you opt for a closer walk you can still manage your shop on a budget here! S
Stocked full of everything you need, this Tesco Metro is larger than you'd think. From freshly-baked goods to alcohol to frozen foods (including an extensive vegetarian section), to stationary, there is a variety of choice here if you're on the hunt for your favourite items.
You can find this shop in the middle of Ecclesall Road and it's only a 6-minute walk from our office. Also, there's a bus stop in front of the shop and a carpark with a maximum stay of two hours. Tesco Metro opening times are 7am-11pm Monday to Saturday and 11am-5pm on Sunday.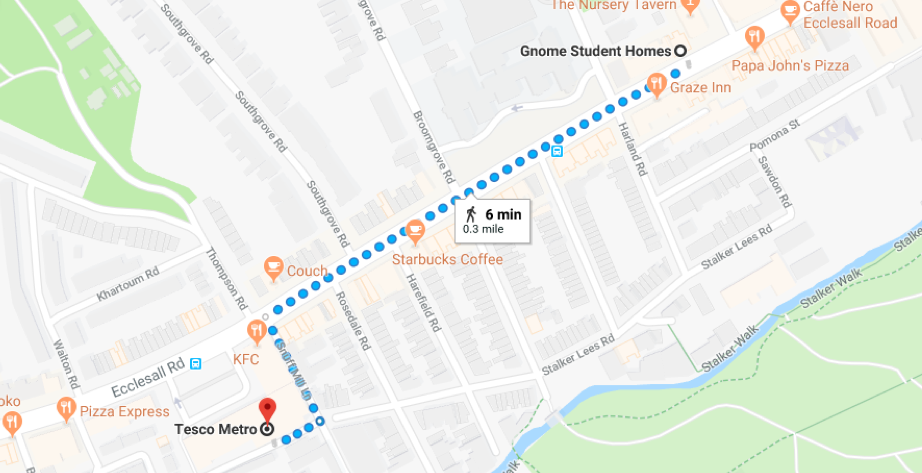 3. Sainsbury's Local, Ecclesall Road
Not too far from Tesco Metro, the Sainsbury's Local is open from 7am to 7pm every night except Sunday; which is a 5pm close. The store, which is slightly smaller than the Tesco Metro, offers a similar range of products including baked goods, fresh and frozen food. There is also an ATM available outside.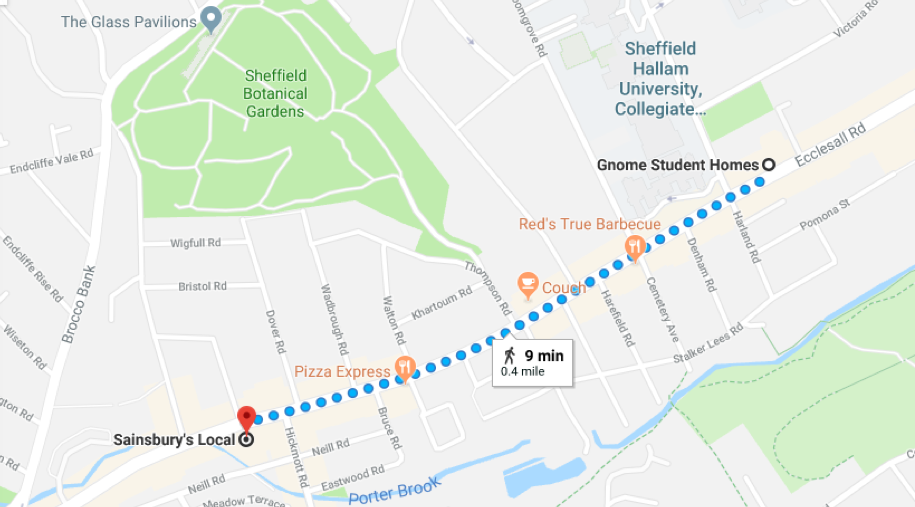 4. SPAR
If you're looking for the basics, SPAR is convenient as it's open 24 hours. However, the produce is limited and more expensive than the shops previously listed. Located a 12-minute walk away from our office, you can also access a free ATM to withdraw cash.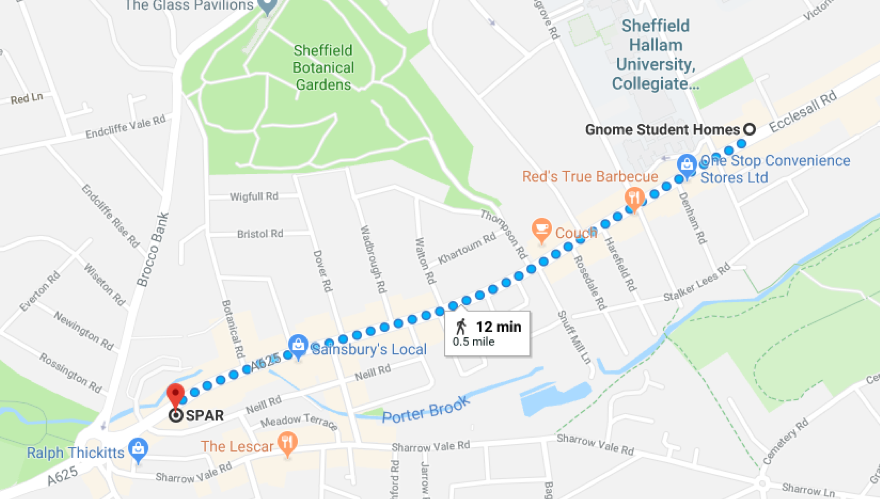 5. Down To Earth
For a nearly 15-minute walk to Down To Earth, you can source good quality, organic and fair-trade wholefood at a reasonable price. The shop is open from 1.30pm-5.30pm on Mondays, but the rest of the week it opens 9.30am-5.30pm and shuts on Sundays. It's recommended for vegans and offers great choice on fresh and frozen foods; whilst cakes are also available. Do bear in mind that the shop is small and it also isn't the cheapest on this list!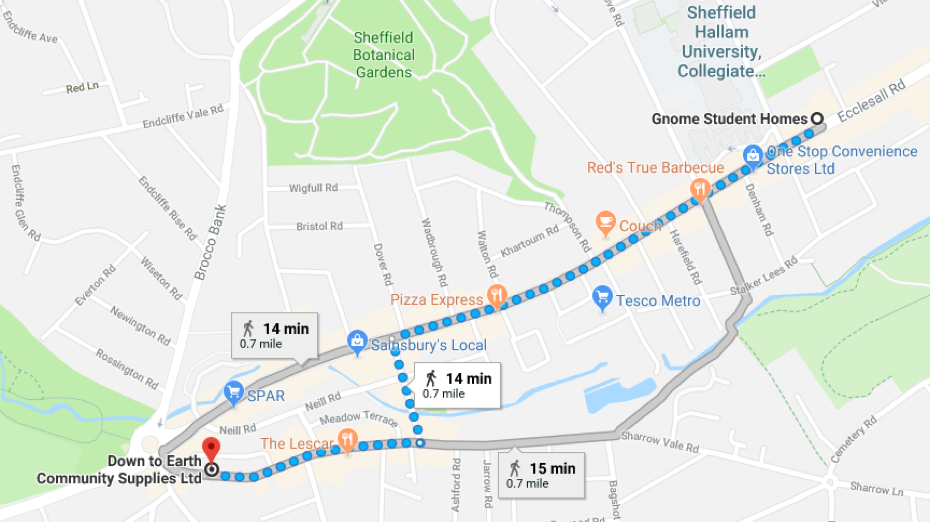 Additional
If you have a car, then a Morrisons or ASDA is roughly a 5-minute drive from the Gnome Student Homes Office.
Alternatively, if you've forgotten anything after your weekly shop, then pop into a corner shop:
7 Hills is open 24 hours every day, 283 Ecclesall Road.
Drinks Stop opens at 12pm-11pm, 375 Ecclesall Road.
One Stop's hours are 6am-12am, 355 Ecclesall Road.
Student Accommodation In Sheffield
Looking for a new student house in Sheffield? Browse our full selection of Sheffield student accommodation now!