← Return to all Blog Posts
Freshers 2019 in Sheffield
25/09/2019
One of the benefits of being a University student during September is 'Freshers'. This is a week long grouping of club events to provide fun for new or returning students beginning the new academic year
In Sheffield, as there are two universities, freshers span over two weeks. For Hallam students specifically, Sheffield Freshers begins on Sunday 22nd and ends on Sunday 29th September, with many events to choose from.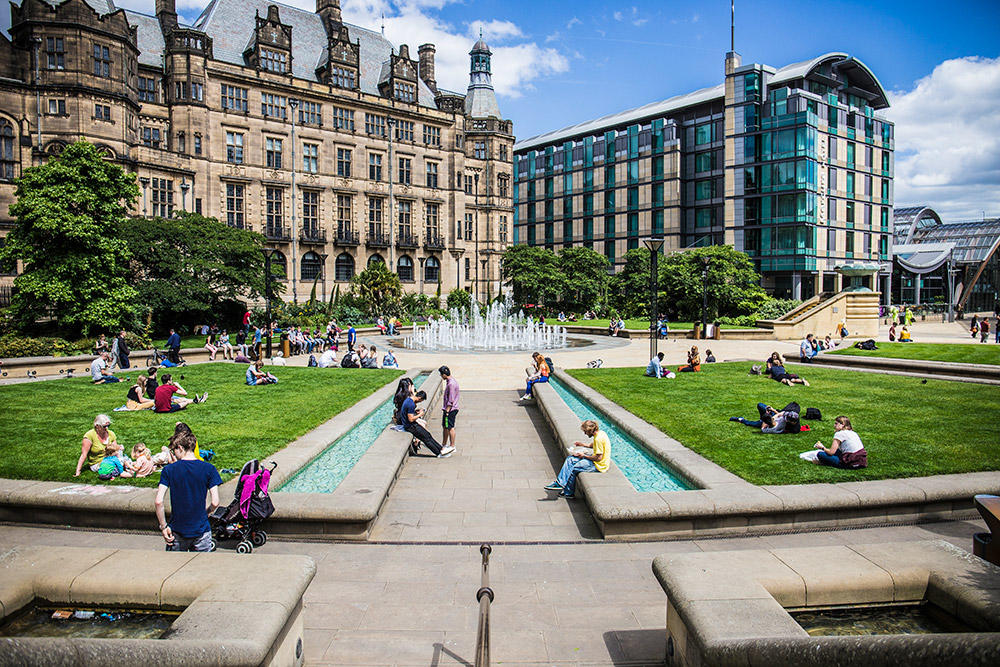 This is a more succinct list of 15 diverse events to help you make all your freshers plans. Each event will have individual tickets available online and some can be accessed by purchasing a wristband for the week to attend multiple events.
Remember that Freshers is a very busy period for Sheffield, so it's best to purchase a ticket in advance. Expect long queues, lots of crowds and a hangover or too… but most importantly ensure you stay safe and have fun! (All events are 18+).
Sunday
22nd September 2019
UV Neon Rave at Area: The event will take place at 10pm-4am (last entry at 2am) and will include glowsticks, UV face painting, a laser, UV & strobe show, UV bubbles, confetti showers, cheap drink prices and more!
Freshers Festival Block Party on Caver Street: From 10pm-3am (12am last entry). The event will be across 5 venues, with X-Factor's Rak-Su performing in Crystal, a meet and greet with Love Island's Chris Taylor in Viper Rooms, with a range of music, glitter stations, inflatables and a giant laser mounted GLObot.
Monday
23rd September 2019
Annual Freshers Move in Party at Crystal Bar & House of Hugo: The event will begin 10pm-3am, with a lighting & laser show, a range of music, cheap drinks and confetti cannons!
F*ck me its Freshers at Plug: A rave at 9pm-2am, providing a free candyfloss cart, a bouncy castle, confetti cannons, UV glow in the dark cannons, neon face painting, glowsticks and more!
Sunken Opening Party at Tank: 10pm-4am (last entry 12am) at this popular event expect house, tech and bass music and £2.50 doubles.
Tuesday
24th September 2019
Battle of the Unis at Corporation: One of Sheffield's biggest nights out that pits Sheffield Hallam students and Uni of Sheffield students against each other! Expect plenty of cheap drinks at Corporation, plus T-Shirts and giveaways throughout the night.
Wednesday
25th September 2019
Freshers House Party at Code: This night rivals that of the one seen in the movie Project X. From 10pm until 3am there will be; beer bong, free pizza, free sweets plus party games all night!
Hallamnation; Block Party on Caver Street: The best of Hallam's craziest societies all come together to form Hallamnation, turning Sheffield into the wildest night every Wednesday. 5 venues. 9 combined DJs. All on ONE street
Thursday
26th September 2019
LOOSE UV Neon Rave at O2 Academy :This has to be one of the maddest nights that Sheffield has to offer. Plenty of neon paint to go around the 3,000 freshers going and more than enough base to keep you moving all night from 12pm-3am!
Club Tropicana Freshers Road closure at Leadmill: Just when you thought Leadmill couldn't get any crazier, they do something like this. Leadmill Road will be closed off to make way for outside bars, carnival dancers and more! Expect to be dancing into the night from 11pm until 3:30am.
Friday
27th September 2019
Sheffield Freshers Festival with Wilkinson, Dappy & Digdat at Plug: Get yourself down to the Freshers Festival at Plug, and guarantee yourself a place to see Wilkinson, Dappy and Digdat all in one place. Open from 11pm till 3am, you and nearly 3,000 other students will be raving to House, D&B, Hip-Hop, Grime and Trap all night.
Socialite Freshers Showcase at Crystal: Crystal continues to remind Sheffield that it is one of the best places to be during a night out. During this freshers' event, they'll have cheap double vodka and cokes for £3.50, as well as visits from celebrity guests. It'll be the best place to dress to impress and have a wicked night.
Saturday
28th September 2019
SCENE Freshers Showcase at Paris: Whether its Hip-Hop or R'n'B you need, Paris has it. Tickets always go fast at this event so grab them quick to get access to the secret, underground venue beneath Carver Street between 11:30 to 4:30am.
Sunday
29th September 2019
Bass in the Park at Ponderosa Park: If you're into Bass, you must have already heard of Bass in the Park and what Sheffield has to give you. From 12pm till 11am on the Sunday, you'll be seeing Andy C, DJ EZ, MistaJam, Harry Shotta, Nathan Dawe, Devlin, SKT, Discarda, Basslayers and Shadow Demon Coalition – and many more.
Sheffield Freshers Closing Party CODECHELLA with Meduza at Code: The FINAL NIGHT before it all gets down to uni business, and of course – it needs to end at Code. From 11pm, opening with MEDUZA, until 4am – this is your last chance to really let your hair down with all the glitter, festival decorations, performers, inflatables and confetti cannons that you can handle. Third Release tickets are available now from £8 so act fast!