← Return to all Blog Posts
Ecclesall Road to Meadowhall Shopping Centre: Journey Options
23/01/2019
It's late January and exams are coming to an end as the new term begins. Many students at the moment will be searching for some stress relief; and I'd suggest heading down to Meadowhall for a good old shopping spree.
Whether you're on board with the 'New Year, New Me' mantra or not, everyone likes spending some of that leftover Christmas money and the new loan instalment on the January sales; so why not get yourself down to the local shopping centre? Plus, nothing will put you in the mood for your new 9am class more than a brand new outfit!
Meadowhall offers a range of shops, restaurants and cinema. Ideal for a fun day out; it's full of all your favourite brands. It's easier to get to than you might think to get there from Ecclesall Road (as so many Hallam students do) too.
Getting to Meadowhall from Ecclesall Road
To help you get to Meadowhall from Ecclesall Road, we've run through the best options below, including:
Where possible, use Google Maps to ensure you find the best route for the time you're travelling.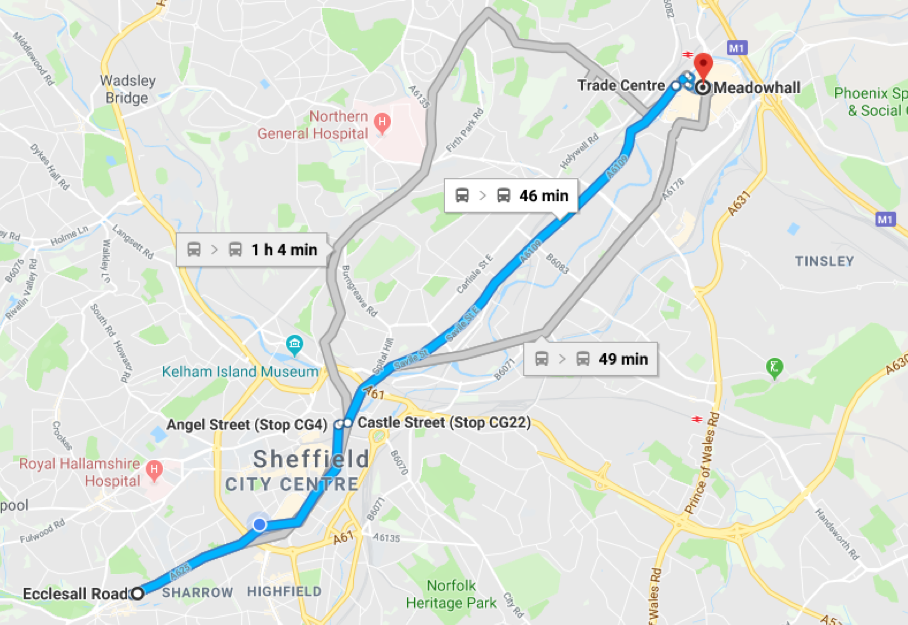 By Car:
If you have a car or know a shopping enthusiast who owns a car then getting to Meadowhall will be quite easy - and parking is completely free. It's a 14 minute drive from Ecclesall to Meadowhall in ideal traffic conditions; via Stevenson road and onto Meadowhall way. Who doesn't love a road-trip right? And if you get carried away with your purchases then getting all your bags home will be less stressful.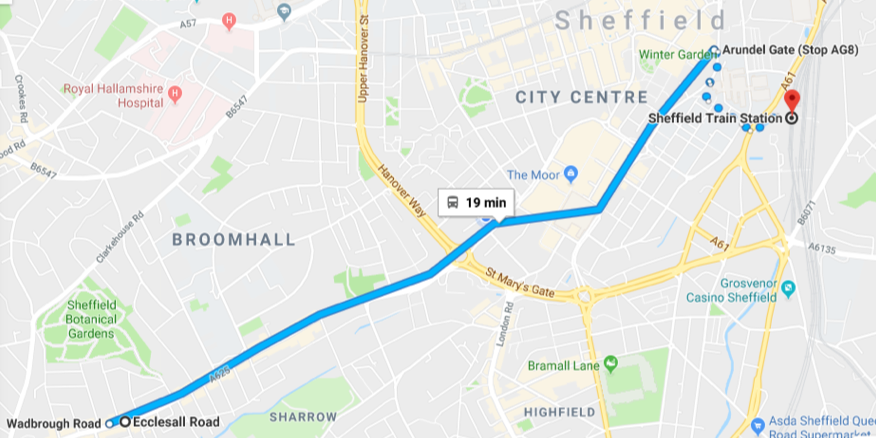 By Train:
Getting the train to Meadowhall is so quick and easy; with trains readily available throughout the day. You will likely wait under 15 minutes for the next train.
The train journey itself is only one stop and takes 5 minutes. Trains from Sheffield to Meadowhall only cost £2.10 and if you have a railcard it is even cheaper. To save on cost, I suggest getting an off-peak-return at the station on the day of travel.
Getting to the train station from the middle of Ecclesall Road is also quite easy. If you take the number 81, 82, 83, 83a or 88 bus from the Wadbrough Road bus stop on Ecclesall Road (across the road from the Tesco Metro), you'll need to ride the bus all the way into town to the stop at either Charles Street or Moorhead Eyre Street (depending on which bus you catch).
From here, it will be a short walk down to the station. If timed well, you could be at Meadowhall within 30 minutes.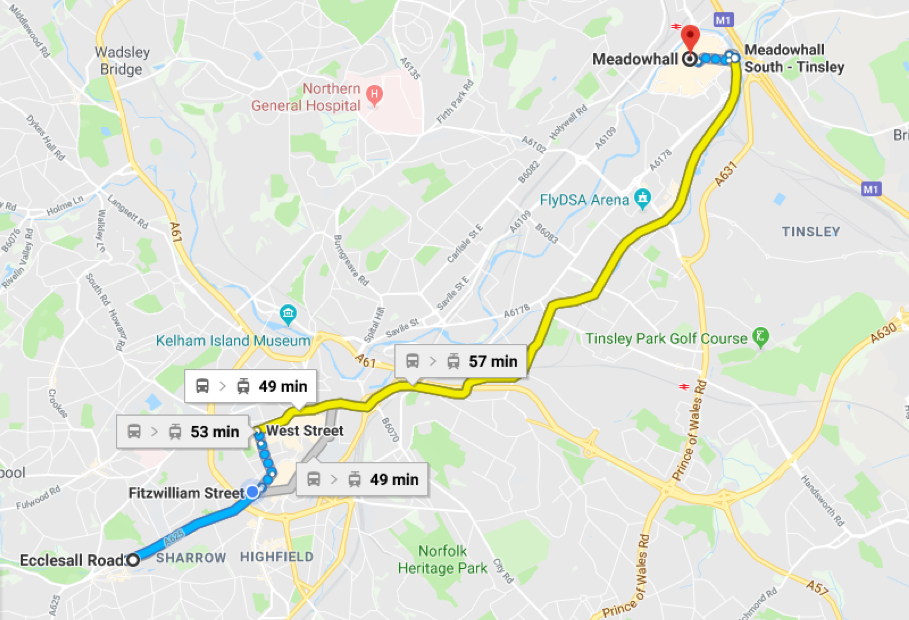 By Tram:
The tram is also a very reliable and cheap way to get to and from Meadowhall, without a steep taxi fare or the need to pay petrol money. Getting to the tram stop on West Street may also require getting a bus unless you live in walking distance. You would need to catch the number 81, 82 or 88 bus from the Wadbrough Street stop.
Therefore, it may be just as easy to get a train if you're unable to walk to the West Street tram stop. From the tram stop on West Street, ride the yellow line Meadowhall Interchange for 13 stops to Meadowhall South, Tinsley. A tram day-rider ticket costs £3.80. Riding the tram is quite easy - you're able to buy your ticket on board and avoid the stress of having to navigate if you were in a car.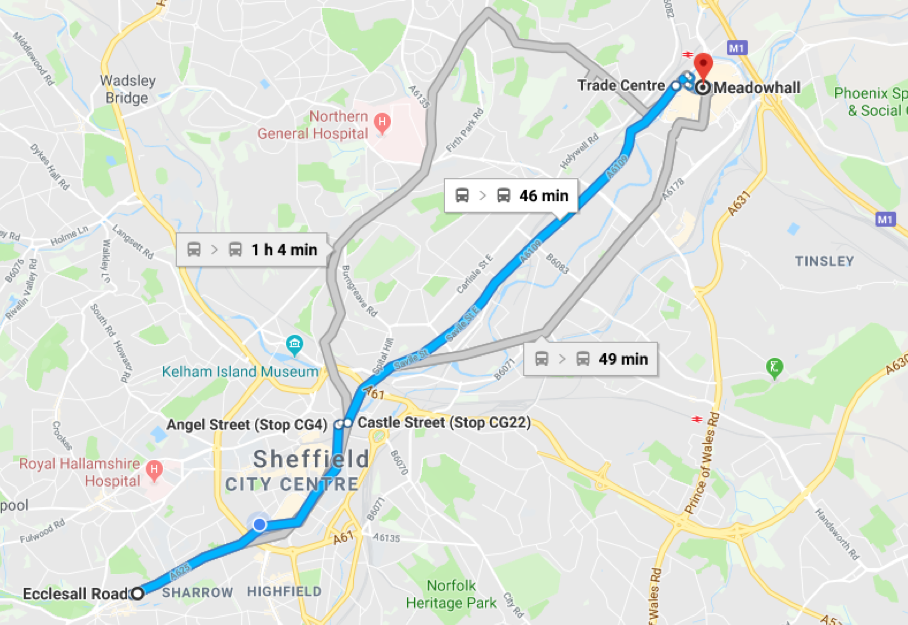 By Bus:
Sheffield bus service is very reliable and affordable, particularly for students. Most bus services offer student discounts, with the average ticket cost at £1. Ride the bus from Wadbrough Street bus stop to Angel Street or the Moor Market Eyre Street via the number; 81, 82, 83, 83a or 88 bus.
Then, either take the X78 bus from the Castle Street stop around the corner, ride for 16 stops up to the Trade Centre, or take the X1 Steel Link for 22 minutes to Meadowhall Way. From there it's just a short walk into Meadowhall.